Page 6 - Catalogo completo Autolift
P. 6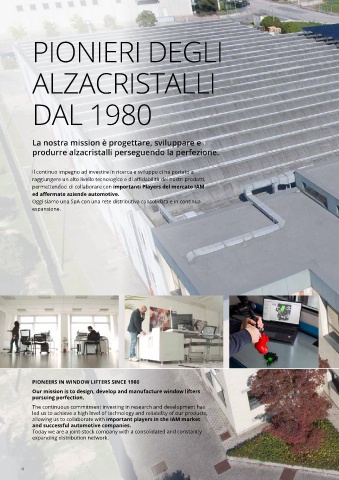 Lavorare oggi meglio di ieri e meglio degli altri:
è questo il principio che guida la nostra azienda giorno
dopo giorno.
Una gamma composta da oltre 1.400 modelli di alzacristalli
elettrici per automobili, veicoli commerciali ed industriali
ci permette di offrire la più ampia e completa possibilità
di scelta.
La costruzione di alzacristalli elettrici assorbe oltre il 90%
della produzione: la parte rimanente è riservata a kit di
dispositivi elettronici per alzacristalli e chiusure centralizzate
personalizzate a completamento di gamma.
Politecnica80 investe costantemente in sperimentazioni e
ricerche per continuare a essere leader di mercato e migliorare
i propri prodotti per rimanere fortemente presente nella fascia
alta del settore.

Working today better than yesterday and better than the others:
this is the principle that guides our company day by day.
A range of more than 1.400 models of electric window regulators
for cars, commercial and industrial vehicles allows us to offer
the widest and most complete choice.
The production of electric window regulators absorbs more
than 90% of the production: the remaining part is made of
electronic devices for window lifts and customized central locks
as complementary accessories to the window regulators.
Politecnica 80 constantly invests in experiments and research
to continue to be market leaders and improve its products
to remain strongly present in the high-end sector.